Adhering to the best practices is the key to long-term success in content marketing.
The demand for content is huge and the reason is that it offers a tremendous opportunity for businesses to maximize their results. A recent survey conducted by the Content Marketing Institute has revealed that 69% of the B2B industry marketers depend on their content marketing strategy to drive more search traffic and establish a profitable online business.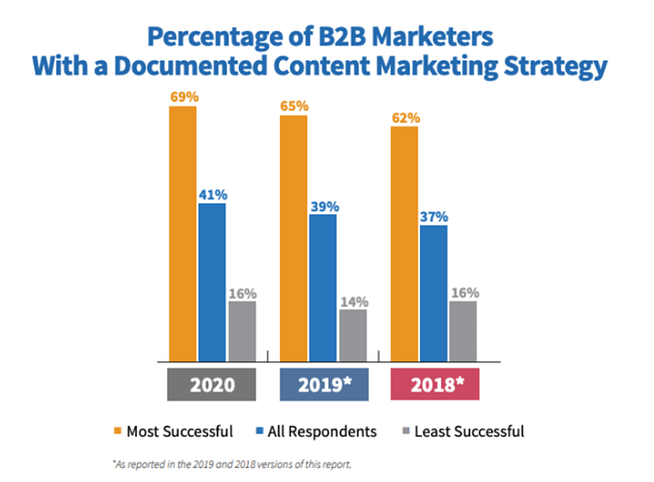 Content marketing is not just about creating and posting content, but a complete strategic approach to build a strong customer base. Organizations, all over the world, are using content marketing to achieve at least one of these benefits: increased search traffic, lower costs, better ROI, or better customers. 
Are you looking to develop a strong content marketing strategy or renew your content marketing strategy for better results? This guide will walk you through best practices to help you cut through the noise and reach your marketing goals.
1- Develop Your Content Marketing Strategy Through SEO Lens
Before strategizing your overall game plan, know that SEO ( Search Engine Optimization) is the cornerstone of your content marketing strategy. This is the first and foremost step to capture the attention of Google and other search engines. 
Creative and useful content on a webpage is used to keep the readers engaged, leading them down the sales funnel. But how would a reader find your content? That's where SEO jumps in.
SEO is not just about sprinkling links and keywords in your content. While writing the content, you need to keep the optimization process in mind. Keywords, that are the most important tool for SEO, should be embedded in your content in such a way that readers remain unaware that you have integrated a specific 'keyword' to speak to the search engines. Moreover, you must put internal and external links strategically in your content. 
Once this is done, get ready to benefit from the fruits of SEO-inspired content marketing strategy: maximum brand visibility, more traffic, and leads, better customer flow, higher ROI.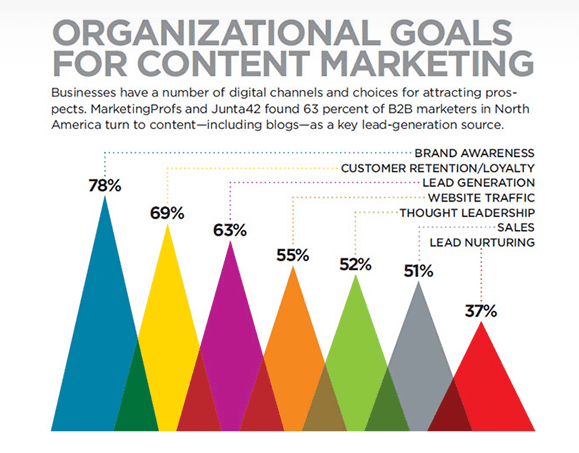 2- Give Your Audience What They Want
There are approximately 1.6 billion websites out there and unfathomable data for your audience to click on. Creating content blindly with zero understanding of what your customers want is just a waste of time. 
Before you can begin on creating a successful content marketing strategy, begin with knowing nitty-gritty details about your audience.  Ask yourself some questions? Who is my target audience? Who will be reading this content? How many audiences are you writing content for? Based on your business type, you may have more than one type of customer. So developing a content strategy with a variety of content types, you will be able to engage multiple audiences on your site. 
Another technique that you must implement is keyword research. Do thorough research to find out what is your ideal audience looking for. You can use different sources such as Google trends to find out which thing has the most searches. 
3-  Assess Your Existing Content
Many companies already have content out there. This includes content on their web pages, blogs, social media platforms, etc. You need to make an assessment on whether the content present on pages is helping you to meet the goals or not? 
Use content audit tools to assess which pieces of the content are less effective and need to be changed. You need to work on the gaps such as targeting new keywords or preparing content for Google's answer boxes.  If you are doing business for a while, run a content audit to assess your content marketing efforts and outcomes from it in the last year. Figure out how you can improve it in the next year and set new goals to meet. 
There are boxes that show up as answers when users put as questions in the search engines. You must prepare your content in a way that some parts of it answer those questions and Google will pick it quickly. This way, you can enhance the visibility of your website. 
4- Stay Up-To-Date & Ready to Evolve
When it comes to content marketing, you should always develop strategies that revolve around the latest developments in your industry. As the digital market constantly evolves, you must keep abreast of Google's algorithm updates if you want your brand to be on the top. 
Stay flexible and provide content that meets customers' latest requirements. If you want to grow, it is your responsibility to make adjustments for the sake of your target audience. For instance, the COVID-19 is a hot topic and everyone seems to be talking and reading about it. You must navigate your content marketing strategy through COVID-19 to provide their customers with what they are looking for. 
5- Spy On Your Competitors
A thorough competitor analysis can improve your marketing efforts, including your conversion rate. 
It is one of the essential strategies to know what your competitors are doing and what strategies you can use to outsmart them. The best way to do this is to know where they are getting backlinks and the quality of the links that they have. It may take some time but thorough competitor research will give an extensive and better understanding of your industry. 
Find your strongest competitors, spy on them, analyze their strategies to find your editorial niches, and make your content even better.
Conclusion:
A well-thought content marketing strategy has become mandatory for enhanced brand promotion and successful business.  It is a prolific way to let your audience know about you and what your business holds for them. Be it a software company, an eCommerce store, or a traveling agency, content marketing is necessary for business growth and a healthy ROI.
Looking for a company to help you guide and develop and result-oriented digital marketing strategies? Mobylogix can help.