In today's competitive e-commerce market, there is no digital retail successful company more than Amazon. It won't be much of a stretch to say that Amazon is a behemoth. With about 50% share in the e-Commerce industry, it holds the title of the world's largest online store and has become a household familiar name.  There are 310 million active customers of Amazon around the world and almost 89% of the buyers visit Amazon sites to buy things.  With 38.7% eCommerce sales total revenue of $75.45 billion in the first quarter of 2020, Amazon ranked first by the eCommerce Sales Share.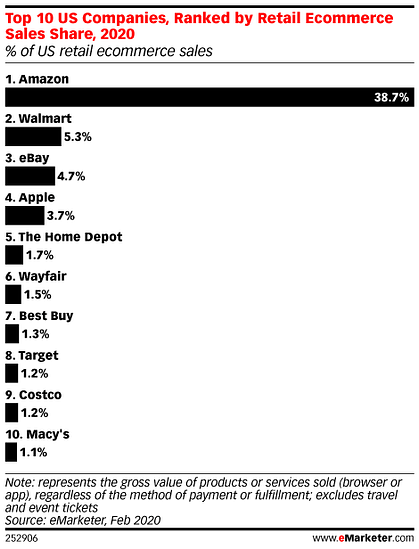 These are jaw-dropping statistics indeed!
Over 2,000 new sellers interact with Amazon every day—A behemoth, as mentioned earlier. As the world's largest eCommerce platform, Amazon's business success has motivated and success lessons for all small and medium-sized businesses. However, all the SBMs and startups want to explore how Amazon did it?
Like all other powerful eCommerce marketplaces, Amazon focuses on customer-centric world view and psychographic segmentation of the market. These two aspects may seem different but for Jeff Bezos's world, they have the main contribution to Amazon's success story. Along with a customer-centric approach, the company has got the right talent to handle social media.
When you start a business, you always look to industry leaders to understand their marketing strategies. And Amazon is undoubted, the best industry leaders to teach you effective marketing strategies.
Let's dig a little deeper to illuminate Amazon tactics that SBMs and entrepreneurs can use to improve their business marketing strategies.
Amazon Marketing Strategies

1- Amazon Uses a Refined and Effective Email Marketing Strategy
It is arguable that Amazon's top marketing medium is email. Amazon started using email marketing as a tactic even before the world knew its importance. 
They have a complete record of their customers' purchase history, interests, on-site browsing, age-based data, thus they send different kinds of emails to target their audience accordingly. 
They send 9 different types of transactional and marketing emails which result in thousands of purchases. Many startups and SMBs use email marketing but what they do is send email blasts without accurate tracking data.
What makes Amazon's email marketing strategy most effective is its efficiency to keep up the tracking data. They keep an eye on their customer's every click, interests, and so on. 
They continuously update their email templates and keep updating their customers about their purchasing behavior and interests. Through emails, they make their customers feel like Amazon is always at their service.
2- Amazon's SEO ranks # 1 in SERPs
Looking at the current marketing scenarios, no one can deny the fact that Search Engine Optimization (SEO) is the most effective online marketing tool. With the right keyword strategies, engaging & perfect content and backlinking, Amazon appears high in the search engine results for specific queries. 
Today, more people directly use the Amazon search engine that Google, which makes it a No.1 product search engine. The core logic behind this is Amazon's SEO marketing as they imply all the relevant keywords for a product. 
While writing the product text, they follow certain principles to optimize it according to human searchers. What SMBs can learn from Amazon's SEO tactic is to map out some principles while providing information about your product or service. Tell your customers how your product or service is beneficial for the buyers? What features have you added that give you a competitive edge over others? 
 It is all about how you structure information and present it with plenty of high-resolution pictures. Businesses, today, often ignore the importance of infographics, while Amazon knows that the first thing a customer sees is the image of the product. 
3- Amazon's Word-of-Mouth Strategy
No matter what type of business you have, the best marketing tactic is "Word-of-mouth marketing. But what Amazon does to create "Word-of-mouth advertising? The answer lies in, exceptional customer services fuel customer loyalty. 
The company has never focused on TV advertising, instead, it used that money to power up free shipping services, low prices, and the addition of new features— ultimately winning customers' loyalty. Putting it into Jeff Bezos words,
"If you do build great customer experience, customers tell each other about that. Word of mouth is powerful." — Jeff Bezos
They use attractive tactics like incentives for purchasing again, buy one, get two & more. Moreover, the best thing about these parks is that they are continual, not just seasonal or occasional. Due to its great customer services, it's membership base grew by 50% in the year 2019. 
Hence, Amazon does everything to generate a holistic customer experience, and the key to this is to invest in services that make buying easy and useful for their customers. 
4- Reviews & Ratings
Rating and Reviews play an important role in the brand identity today, and Amazon is a pro at this too! It was among the first companies to bring the review strategy to life, way back in 1995. Today, it is impossible for an eCommerce website to grow without having a system of reviews & ratings at the place.
Following Amazon, eCommerce platforms put emphasis on reviews and ratings and it becomes common, for a good reason. According to researchers, Amazon reviews lift revenue by 18% and make good for platforms like Reddit and Tumblr fodder.
The company changed the review game by adding a single feature that was adding a question at the end of the review, " was it helpful?" After adding this simple feature, Amazon started earning $2.7 billion each year. That's the power of adding small details for amazing customer experience. 

What is special about Amazon's review System?
The company has worked hard to make millions of customer reviews useful for potential customers.
They have exclusive customer review creation guidelines that customers need to follow to publish a review. 
They send an email for each product bought separately asking the customer if the product was good and helpful. This is the common mistake that most of the SMBs made that they send bulk of emails that even confuse customers.
5- Video Streaming Marketing Strategy
It's high time that SBMs and entrepreneurs realize the value of video advertising. According to researchers, 75% of the users prefer a visual description of the products.
Amazon has been advertising their products through video streaming for quite years now. Recently, they launched a new program "Style Code Live," that discusses every detail about the product, like what is special about the product? along with the direct link of the product underneath. So, what can be a better strategy than combining business with entertainment? That's what your customer needs!
The same holds true for every other business, if you want to grow your business, the best way is to provide your customer with a visual representation of your business. The more you are good at it, the more you will expand your business. 
6-Constantly Upgrading Products Strategy
One of the big reasons behind Amazon's success is that they always come out with new products. This is the primary reason that they beat big companies like Uber, Disney, etc. They have always stuck to one policy and that is — to stay customer-centric. They have upped their eCommerce game by bringing innovation in their products. 
It is in their manifesto that the company only plans for expansion, keeping on their long term goals in mind.
Currently, the company has more than 12 million products and they are constantly struggling to provide variety to the consumers. They are also working on upgrading their delivery system and customer support is outstanding. Whenever a client has an issue, the product is good or bad, you want to replace it, they are always at your service and guide you well. 
As a business owner, you must never confine your products or services to a limited number. To become successful, it is always important to see the bigger picture. The vision for product innovation and ideas expands what keeps business alive and more profitable as time passes.
Conclusion:
With the eCommerce market now in full swing, It is more important than ever to implement the right marketing strategies for business owners. Being an industry leader, Amazon uses the best marketing tactics. 
Amazon seems scary to most of the startups as they think they can never achieve so big. Don't be scared, learn to put your customers and products on priority. Like Amazon, you can give your business a spark by promoting your business across a number of platforms like Facebook, Twitter, Pinterest. Keep your customers satisfied, always keep adding, never stop expanding, make the best use of the technology, and always focus on the bigger picture. 
Want to build a marketing strategy for your business? Consult with Mobylogix today.