Almost all the big companies around the world have advanced supply chain management software to run the system smoothly. From departmental connections to data sharing and product tracking, all the companies have computerized systems yet companies have limited insights to products and data.
The faults, in most of the cases, are the gaps that exist between the huge data and traditional computerized systems. These systems are able to transfer data only one step down the supply chain. They were suitable, almost 40 years ago, when companies used to have static supply chains, however, they do not sync with the modern supply chain management systems.
What is a Supply Chain?
Every time you wear something, eat a burger, order for a gadget, or buy groceries from the store, have you ever thought where do all these things come from? How the supply of everything is managed? How all these things travel along a journey from the point of production to a store near you? All this is possible because of supply chain interlinked with thousands of elements at the same time to deliver products from place to place. 
As the world is turning into a global village, the supply chain systems have also become larger and more complex. Due to technological developments and new innovations appearing every day, a large system of supply chain emerged, and trade has never been the same since then. Nowadays, the supply management network is rapidly extending as a large number of products can be shipped cheaper and faster. The Gartner Research Report 2019 has shown that the supply chain market will exceed $20 billion by the year 2021. 
What is Blockchain & How Can It Revolutionize the Supply Chain?
While most people believe that blockchain is merely linked to cryptocurrencies; Bitcoin, Ethereum, etc. that truth is that this distributed ledger technology has unlimited applications. Blockchain has its applications in tracking records, transparent exchanges, fast payments, contracts & more. There is no involvement of third-party and blockchain is extremely secure, efficient, and scalable. 
Though the supply chains have transformed, the systems managing the big data and other functions are still out-dated. With blockchain, organizations can rebuild their approach and strategies for supply chain management systems and go from traditional standards to international standards. 
The Core Logic of Applying Blockchain Into Business Practices
Businesses often discourage middlemen but in the case of blockchain, it turns out that they are really useful. The core logic behind blockchain is that when a product is shipped or the data is transferred, the update will be visible to everyone everywhere within seconds — no piece of inventory will be visible in the same place twice. 
Since most of the supply chain management systems rely on the quick transfer of data, transparent transaction, blockchain has turned out to be a game-changer for the supply chain ecosystems. Nowadays, most of the leading companies are leveraging the benefits and potential of this technology by blockchain-based applications for their commercial business. Forecasts show that there will be massive growth of $23.3 billion in blockchain technology in the coming years.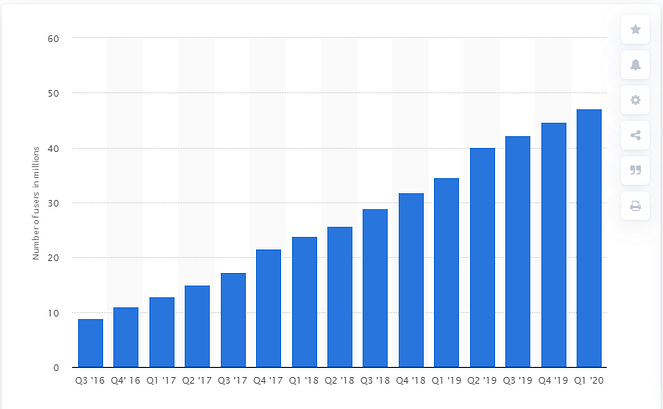 Most of the supply chain based US companies have leveraged this technology. Most of the company's CEO realizes the useability of blockchain as it allows every member of the supply chain to have access to the required information without any hassle as well as the status of the goods/items during its journey across a supply chain. 
The Benefits of Blockchain-enabled Supply Chains
1. More Visibility
Thousands of goods are manufactured and shipped every day. You might not be able to keep track of the registered goods, data about the customers, your business partners, and other people involved in your supply chain network. Well, blockchain makes it all simple & easy. This technology will keep a record of everything from business partners involved in transactions to price & quality of the product, and the date and location of the transaction. 
Another best thing about blockchain is that it is decentralized in nature that means no single person can either own or manipulate the data for personal benefits. The immunity of the high-security feature of blockchain makes it resistant to compromising the ledger.
Without blockchain, companies hire dozens of professionals who work for days to assemble the data that too is not trustworthy. However, blockchain applications perform all the functions without professionals, in less time & less money.
2. Better & Faster Data Response
There is the phrase "garbage in, garbage out," and it applies perfectly to traditional supply chain management systems. It is always uncertain about the product registration, location, and customers which often lead to double inventory. With the new technology, tracking and verifying, sharing, and linking information will be possible in real-time. It is free of human errors, minimum time delays, and slow transactions. 
With IoT-based blockchain systems, the product data can be stored and tracked through RFID tags and IoT sensors. With such an efficient and fast-tracking system, this technology provides the fastest data response with much more accuracy and better forecasts. 
3. Quick Detection of unethical Suppliers & Frauds
In today's era, companies lose millions of dollars every year due to cybercrimes. Though they have implemented modern security software, yet they fail to identify online frauds and fake suppliers. However, blockchain is such a technology that keeps fair and accurate records of the suppliers and products' history minimizing the risks of online frauds.
Due to high- security features, various industries such as the pharmaceutical supply chain, food supply chain, fashion industry supply chain, etc. are extremely interested in implementing blockchain technology. The main reason behind this interest is the blockchain's potential to eliminate counterfeit products that are responsible for millions of dollars lost every year.
A safe and secure supply chain can be built using blockchain technology as it detects the wrong information, contract violations, and other redundancies in the flow of products. 
4. Leveling the eCommerce Field
Some big companies such as Amazon, eBay, etc have emerged as the most powerful and dominating retailers that have put the small business supply chains at risk.  This is not good for small businesses and even for consumers who always need a variety of products from different companies. Here, blockchain is again a solution as it provides a platform where everyone ( either small or big businesses) can access valuable data and retailers without any security or privacy risks. 
This helps in building trust amongst all the SBMs as everyone will have the opportunity to grow and interact. 

5. Saves You a lot of Money
One of the major benefits of adopting blockchain technology is that it reduces the 50% costs of the supply chain infrastructure. The financial industry has been among the leading sectors to invest in blockchain as this sector has experienced a significant reduction in the costs after getting blockchain development services.
This is because blockchain removes the hassle of intermediaries, professionals for inventory and data management, least transaction fees, that otherwise, companies have to pay for each and are very functional. By integrating blockchain, companies don't need extra security software to keep their data secure from hacking and manipulations. 
6. Advanced & Secure Exchange Methods
Blockchain has also revolutionized the exchange methods in a supply chain. For instance, exchanging data or documentation between two parties through blockchain and smart contracts could eliminate major hurdles such as customer papers, bills, and third-party transactions. 
With smart contracts, digital receipts are generated as proof with no limitation or confusion between the seller and the buyer. The result is highly advanced and dramatically simple supply chain operations, having a positive impact on your business.
Wrapping Up
Blockchain is an incredible technology that has the potential to transform the supply chains enabling them to meet the latest global standards. Historically, industries have been slow to understand the importance of quick and secure data. However, no leading IT companies such as Microsoft in investing in infrastructures supported by Blockchain.
The increasing value of blockchain can be understood that it is revolutionizing and upholding integrity among various supply chain members. The organization needs to adopt this new approach to transform the way they do business!