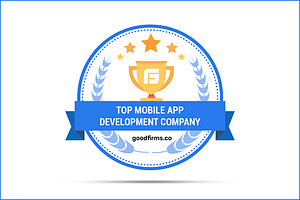 Mobylogix is a top-rated company offering scalable and robust solutions to various industries. Their sincerity and passion have earned them a position at GoodFirms top mobile app development companies in Lithuania.
Mobylogix: Introduction
Mobylogix, founded in the year 2015, is one of the most reliable software engineering and marketing firms located in the United States with multiple offices in Lithuania and Denmark. The professional Mobylogix team offers end-to-end solutions to help clients maintain their business efficiency by providing mobile app development solutions, software development, IoT, blockchain development, digital marketing, and various other services. With potential knowledge and experience, the team provides scalable solutions to multiple industries and niches.
The company has so far worked for 100+ clients and has taken on  300+ different projects. Furthermore, the group of expert and sound professionals optimizes every solution to fulfill clients' business objectives and boost performance. To offer the most advanced and futuristic solution, the team has a very unique approach. They are always ready to unlock the growth opportunity and provide reliable solutions to help clients reach their business goals.
GoodFirms Methodology
GoodFirms is an online platform that connects service seekers and service providers together. The profound GoodFirms researchers evaluate companies based on parameters such as Quality, Reliability, and Ability after which the ranking is decided.
Similarly, GoodFirms evaluated Mobylogix on the same parameters and concluded that they have excellence in delivering services that can boost business. The list of services and company offerings is mentioned below:
Mobile App Development
The mobile app is creating value for businesses by giving them an edge in the market. With this thought, the Mobylogix team offers mobile app development solutions to various companies worldwide. By having proficiency in developing applications, the team provides Android app development, iOS app development, and cross-platform app development services.
Susan Parker gave Mobylogix a 5-star and praised them for taking care of her app development needs.

Mobylogix has many creative thinkers who adopt the most advanced technology to create an interactive and creative app that speaks business. Their feature-rich and innovative ideas help clients to make a presence everywhere and connect with their customers offering a high profitability business. They have offered service to various sectors like healthcare, FinTech, real estate, travel apps, enterprise apps, and diverse other sectors. For catering to clients' needs and increasing their ROI Mobylogix grabs a spot as one of the leading and top mobile app development companies in Lithuania at GoodFirms.
Software Development
The use of software in a business brings a positive shift in this competitive digital landscape. Mobylogix's software developer team offers result-oriented services to increase and improve business profitability, productivity, and revenue. Backed by experienced professionals, the team pledges to translate clients' vision into meaningful reality with their customized solutions.
The team holds excellence in C#, Java, ElectronJS development, and many more. Furthermore, they are also ready to accept challenges and solve complex business problems. With a visionary approach and timely service, the team promises to run their clients' business efficiently. To offer an optimum solution, the company's software development team first understands client business and requirements and decides which solutions fit your business. Their commitment to improve clients' business and make them run smoothly has helped Mobylogix acquire a top spot amongst prominent software companies in Los Angeles at GoodFirms.
IoT Services
To build a smart and systematic business, IoT plays an important role. Mobylogix offers IoT services to assist clients in having a systematic and automated business. The seasoned professionals have to build IoT apps for various startups, SMBs, and different enterprises. The team offers a solution to assist firms in collaborating and automating with technology for faster growth.
The team tries to offer budgeted yet effective solutions to constantly improve business efficiency. They have helped many verticals such as the retail sector, manufacturing, and healthcare to increase their business productivity. By delving deeper into the clients' business, they also offer maintenance and support services. So, for offering next-level IoT solutions, Mobylogix grabs a prominent place as one of the top IoT companies in California at GoodFirms.
About GoodFirms
Washington, D.C. based GoodFirms is an innovative B2B Research and Reviews Company that extensively combs the market to find top Mobile App Development, Software Development, and IoT Services firms that offer the best services to its customers. GoodFirms' extensive research processes help rank the companies, boost their online reputation, and helps service seekers pick the right technology partner that meets their business needs.
About the Author
Anna Stark is a staff writer with GoodFirms – a Washington D.C. based B2B Research Company that bridges the gap between service seekers and service providers. Anna's current role includes gauging companies' performances and their key attributes and putting them into words. She firmly believes in the magic of words and is always on the lookout for new strategies and ideas that companies have gladly embraced, and then helps them shine a light on those to make their identities shine brighter.