App stores are jam-packed with thousands of mobile applications leading to immense competition between businesses. As surprising it may sound, the truth is that about 90% of the mobile apps are abandoned after a single-use. Gartner's study reveals that the commercial success of mobile apps remains between 00.01-00.02 % which means one or two successful mobile apps out of 10,000.  These statistics have certainly left businesses wondering what is the secret formula or ingredient for developing a successful mobile app?
Well, the truth is that a successful and user-friendly mobile app calls for a lot of foresight. It requires a lot of research about market trends and studies to find why other apps failed and what mistakes developers made. The failure of the app could lie in its design, development process, strategy, testing, or even marketing. Therefore, it is imperative for mobile app development companies not to let their time, energy, and hard work go wasted just because of some silly mistakes.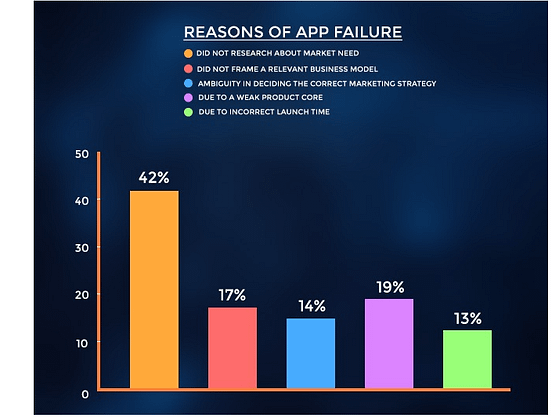 Here's a rundown to the dos & don'ts that you should consider while developing a mobile application. If you keep them in mind while designing a mobile app, you will develop successful mobile apps. 
The Do's
1- Do A Thorough Research Before Designing
The first and foremost reason why a mobile application fails is that mobile app development companies don't do thorough market research before designing.  Do proper research first!
Good research will help you understand who your audience is and what do they really need in a mobile app? The goal is to create an app that synchronizes with your target audience. Spend some time to study about your competitors, work in the direction of the blueprint that you have come up with, and make your customers' needs your mission statement. 
2- Consider Needs of The Most Basic Users
Mobile app developers must consider the fact that every user out there is not a technical wizard. It is quite tempting to use all your skills and design an app but doesn't forget that it should be user friendly. Your app must be appealing and easy to use even for the most basic users. Once you have prepared the strategy, ask yourself a question, 'Does this application have the ability to be used by people who are not tech-savvy? This factor must not be forgotten!
3- Enlist Mobile App Features
The next step is to enlist the necessary mobile app features that will provide users a good user experience. Keep the interface clear so a user can understand what's going on. Sometimes developers add so many features that make apps complicated and users don't like to come back after first use. Add features and animation that can really take your mobile app up a few notches, but be subtle with them.

4- Theme & Designing
Themes and designing are essential factors when developing a mobile application. Your theme, visuals, colors will make your users have a great user experience. Don't use bright colors unnecessarily or don't use unlit colors as it will give your app a gloomy appearance. 
To develop a great app, choose color combinations carefully, be consistent between pages and communications. Use strong typography, HD quality images, and minimal style. 
5- Focus On Navigation & User Workflows
To create a mobile app that users won't abandon, use a navigation style that's familiar to the audience. It's good to use the Navigation Drawer for Android Apps and tab bar for iOS apps. 
Keep your navigation simple, create a clear hierarchy of screen flow, use familiar screen models such as My Profile/Account, Feed, Getting Started, Search, and others. 

The Don'ts
1-Do Not Underestimate Your Customer's Needs
Don't start creating a mobile app before knowing customers' needs and what benefits your app can deliver to the users. Spend a good amount of time validating your design theories based on the needs and requirements of your target audience. 
2- Unnecessary Features & Complexities
Many times apps fail when developers put all of their skills in one app. They might temp to make the apps more complex and techy by adding unnecessary features in order to impress the client. The client, in turn, has to pay heavy costs later on due to such complexities in the mobile application. 
This is one reason why most mobile apps fail to attract users' attention. 
3-  Don't Use Too Many Gestures
Standardization is the key to providing good user experience. Users like to see standard gestures and symbols for the common actions so that they can easily recognize and perform actions. Always use standard gestures for shortcuts, however, stick to only a few ones.
4- Don't Copy Other Platforms Blindly
Do not copy or reorder other platforms' frameworks structuring style. If you copy the theme, design, or style of your competitors, it is more likely that you are going to lose the game in the very beginning. Be creative and mindful, and create a particular OS look, otherwise, your mobile application won't find a place on the stage. 
5- Don't Rush Release
People often get excited to launch their mobile application without testing it. It is imperative to take time to undergo all the testing to make sure your apps are bug-free and run smoothly. When your app is finally developed, check each and every aspect before the final release. 
6- Don't Forget Marketing
Marketing is what sets a successful mobile app apart in the ocean of billions of other apps. Sometimes, there is no problem in the mobile application but still, it wallows in mediocre sales due to poor marketing. 
Remember: Creating an app is nothing unless people know about it.
Wrapping Up:
Mobile apps are becoming increasingly popular among businesses these days.  As more apps are mushrooming every day, the competition is increasing and so are the users' expectations. In order to meet the user's demands, you must keep the above points in mind before developing an app.
If you are a startup looking for a reliable mobile app development company, Mobylogix can be the right partner for you.