You would've heard about Virtual Reality so many times before and might think of it as merely a technology for fun, gamers, and science fiction films. No doubt, virtual reality has plenty of fun uses in games— space exploration, snooker, etc.
However, the truth is that this technology is blending with every aspect of our lives nowadays- medicines, education, healthcare. A surgeon might be operating on you from another place with the help of VR experience, with 100% results. This sounds like a fantasy.
But the vision is that VR will be the next frontier of the technology world — Virtual Reality is here to stay and transform. But what exactly is VR?
What is VR & How It Is Different than AR (Augmented Reality)?
Virtual reality is a computer-based program that lets you see and feel the distant objects in a way that they appear like reality to you. VR is the most incredible and coolest technology coming out of software development letting you experience reality in a different way.
The technology allows the users to immerse themselves in the surrounding environment like you are a character of a movie, physically present in a football match, or even attending your wedding while you and your spouse are miles away— sounds like something uncertain? Keep reading, because VR is becoming the reality of the 21st century set out to transform the world we live in.
In Virtual Reality, users get immersed in an environment that is built using artificial images, sounds, and settings. On the other hand, with AR (Augmented reality), our real surroundings become a framework within which images, and sounds are fixed. In short, Augmented Reality overlays virtual 3Dgraphics onto our real surroundings. 
Virtual Reality Concepts & Features
The concept of Virtual Reality appeared in the 1960s as an attempt to create a technology science through which people can see, feel, and experience the virtual world like reality. VR is a semi-immersive system that provides users a closet experience to reality, giving them an illusion of being physically present in the virtual environment. 
Moreover, VR works as an immersive system that may add various sensory features making the actions and interaction feel like utter reality. It involves the perception and sensation of the physical presence 
Why Virtual Reality Is Becoming Important Nowadays?
It may seem hard to believe that VR was formulated in the 1960s. It was initially used in the slight stimulations and military aircraft arena. Due to extremely high costs, this technology couldn't find its way into the commercial world.
In recent years, Virtual Reality has attracted the attention of investors and the general public—Mark Zuckerberg buying Oculus. Currently, big companies like Google and Microsoft are investing high in this technology. It is most useful in the gaming industry currently and gaining quick popularity in other industries such as healthcare, manufacturing, digital marketing & advertising, et.c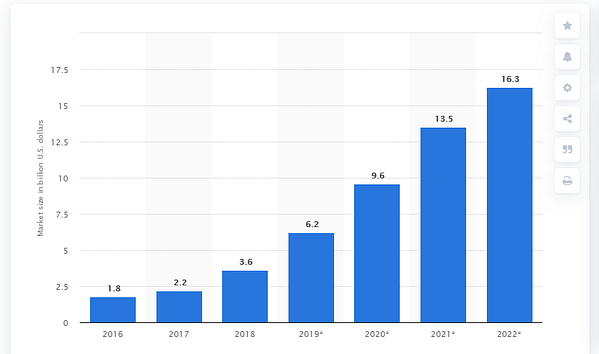 Though it's been around for decades, its most recent applications include HTC Vive, Mixed Reality Interfaces (MRITF), Oculus Rift, etc are gaining popularity among the business and technology world—clearly, it has a bright future. Due to increasing demands and work in the field, the global virtual reality market is expected to grow $44.7 billion by the year 2024. According to statistics, the percentage of Virtual Reality users was 10.1% (2017) and is expected to grow by 25.4% by the year 2021.
As technology advances, the eCommerce industry to integrate Virtual Reality in its marketing strategy. VR is gaining importance among the businesses as it allows them to provide their customers with a real shopping experience with the convenience to tap the product and see its 3D version. VR is becoming an emerging trend among brands as it allows their users to feel what they are expecting from a particular product or service.
How Virtual Reality is Shaping the Future of Software Development?
Virtual Reality is a complete 3D system created by using software and relevant hardware. Virtual technology was created by software developers and now things technology is all set to revolutionize the software world itself. Due to its 3D nature, it enables the developers to manipulate and make adjustments to every solution they are working on. 
VR 3D capabilities allow users to design, alternate, and make collaborations on projects even when they are in the different parts of the world. It helps the technicians to experience aggregated data, collect, store, and analyze in order to design, build, and test a solution. 
What is the Future of Virtual Reality?
VR is simply set to break the surface with its 3D capabilities. The development of being able to feel and touch things that people can never be otherwise is completely taking over them. After Facebook bought the technology (Oculus Rift) for $2 billion, it is definitely going to creep out in the lives of marketers and consumers soon.
According to IDC Research (2018) investment in Virtual Reality and Augmented Reality will multiply by 21 times in the next four years. Additionally, this technology has the highest projected potential and will key to eCommerce and digital transformation. 80% of the businesses who consider themselves as 'advance tech adapters,' will integrate VR technologies in their businesses. Some of the big tech companies around the world such as Apple, Microsoft, Google, HP Intel, IMB, Samsung are already working to put their resources to be able to see things in HD.
In the coming years, Artificial Intelligence and 5G may integrate with VR letting the world see wonders that they never expected.
All this shows Virtual Reality is no more a gaming fun technology or a science fiction. Soon, it will integrate into our lives presenting infographics where we can experience virtual reality, leading to technology opportunities that will shape our future.